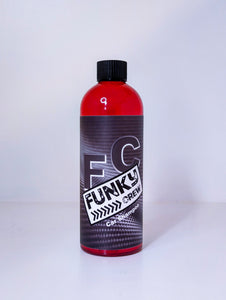 Introducing Funky Crew Car Shampoo, the ultimate solution for maintaining your vehicle's appearance!
Our specially formulated shampoo contains powerful cleaning agents that effortlessly remove stubborn dirt, grime, and stains, while still being gentle on your vehicle's paint.
Infused with polymers, our shampoo will not only clean your car but also leave it with an impressive shine.
Say goodbye to harsh chemicals that can damage your vehicle's finish and switch to the premium quality Funky Crew Car Shampoo, the only product your vehicle deserves.
Order now and give your vehicle the perfect bath.
Features and Benefits:
Sublime scent

Super slick

Anti marring properties
How to use:
Firstly, complete your pre wash process and then simply dilute 1 part shampoo to 250 parts water into your wash bucket and agitate with pressured water to unearth serious soapy goodness!
Wash with your chosen wash mitt or pad, making sure to wash all surfaces thoroughly starting at the top of the vehicle and working your way down to the lower areas. When complete simply rinse away any remaining suds using pressured water