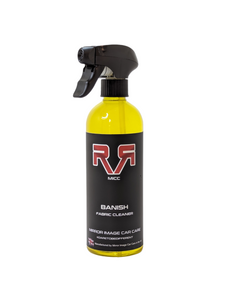 ✅ PICK UP AVAILABLE AT MIRROR IMAGE CAR CARE WITH CLICK & COLLECT
Description 
Mirror Image Car Care Banish Fabric Cleaner is the perfect solution to keep your car's upholstery and carpets looking brand new!
Want to keep those stubborn stains away? Look no further than Banish Fabric Cleaner!
Banish Fabric Cleaner is easy to use and highly effective. It effortlessly removes stubborn stains and dirt, leaving your car's interior looking clean, fresh and invigorated.
Its active formula penetrates deep into fabric surfaces, lifting out even the toughest stains and dirt, making it perfect for use on car seats, carpets, floor mats, and headliners.
Unlike other harsh chemicals, Banish Fabric Cleaner is non-toxic, pH neutral, and safe for use on all types of fabric.