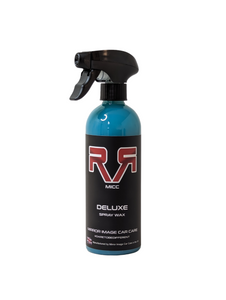 ✅ PICK UP AVAILABLE AT MIRROR IMAGE CAR CARE WITH CLICK & COLLECT
Description 
Deluxe Spray Wax is a combination of our best-selling finishing products and is perfect for giving your car that showroom shine.
Gloss Enhancer, Spray Wax and River come together to create a product that is both durable and glossy.
Deluxe Spray Wax is a blend of our River sealant which is a paint sealant with durable polymers to protect your paint.
Our original Spray Wax which lays down that all important layer of carnauba to get that paint work Shine. 
Then Gloss Enhancer to give you that deep gloss wet look finish. 
Deluxe Spray Wax is also pleasantly Scented and an easy application product. 
How To Use
Apply Deluxe directly to the bodywork a panel at a time after your vehicle has been washed & dried using a clean microfibre cloth then buff for a high gloss, silky smooth, wet look finish using a clean buffing cloth