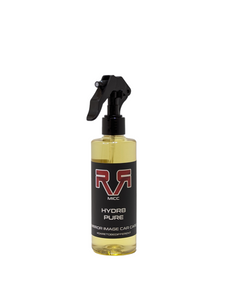 ✅ PICK UP AVAILABLE AT MIRROR IMAGE CAR CARE WITH CLICK & COLLECT
Description 
Hydr8 Pure is a true ceramic coating that can be applied outside which makes it the perfect choice for DIY application or for mobile valeters & detailers. Its 250ml bottle contains enough product to cover 5 vehicles making it one of the best value ceramic coatings available.
User friendly sprayable coating system with 6 months to 1 year durability depending on your preparation and application.
Each bottle can cover at least 5 vehicles on average with a single coat.
Application can be indoors or outdoors and can be driven away instantly after application.