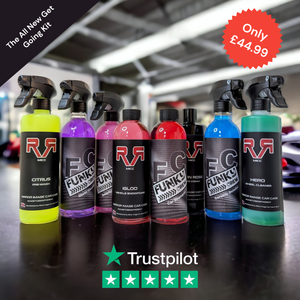 Afternoon Mirror Image Car Care Family 😍
📢 Introducing the all new Mirror Image Car Care Get Going Kit, the ultimate solution if your stuck for choice!
💥 Our Get Going Kit has everything you need to achieve professional grade results in the comfort of your own driveway.
👉 This kit is perfect for car enthusiasts and everyday drivers alike.
Here's what you'll get in the Mirror Image Car Care Get Going Kit:
👉 500ml MICC Citrus Wash
👉 500ml MICC Igloo Snowfoam
👉 500ml FC Shampoo
👉 500ml MICC Wheel Cleaner
👉 500ml FC Ceramic Detailer
👉 500ml FC Glass Cleaner
👉 500ml FC Interior Dressing
👉 500ml MICC Satin Rose Tyre Shine
💥 Don't settle for anything but the best when it comes to maintaining your car's appearance. Upgrade to the Mirror Image Car Care Get Going Kit today and experience the difference.
👉 Order now and receive at a special introductory offer of £44.99
Mirror Image Car Care Bringing out the best in your car one shine at a time.!
🪣 Work Smarter
🪣 Not Harder
Please Note How They Are Listed Is How We Advise Application.