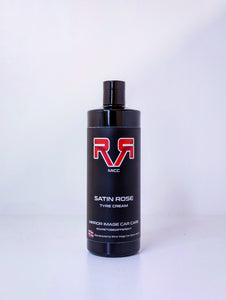 Satin Rose Tyre Cream : 

A non-slinging formula that gives you a natural satin-matte look. Satin Rose will not only enhance the appearance of your rubber, but offer a factory look finish. 
But that's not all..
Water based, and packed with UV-inhibitors, the benefits of Satin Rose also run deeper than mere aesthetics or surface protection. The groundbreaking water-based formula has been developed to be actively absorbed into the rubber to safely nourish and condition your tyres from within. This offers even deeper-seated protection helping to combat the common problems of browning and cracking over time.   
Definitely a kitbag essential, Satin Rose is the perfect finisher for your regular maintenance routine.