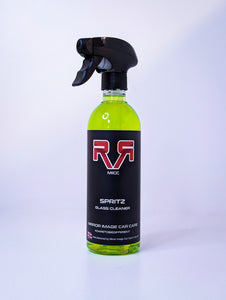 ✅ PICK UP AVAILABLE AT MIRROR IMAGE CAR CARE WITH CLICK & COLLECT.Description 
Spritz glass cleaner is designed to effortlessly clean automotive glass both inside and out.
Our powerful formula cuts through dirt, grime, and fingerprints for crystal clear results.
Spritz Glass Cleaner is a fine balance between a strong glass cleaner which can often leave detergent residue behind on glass, and a weak glass cleaner which doesn't clean the heavier grime is very tricky to achieve. With Spritz Glass Cleaner we have relied on specialist additives to achieve this heavy dirt cleaning with a streak-free finish.