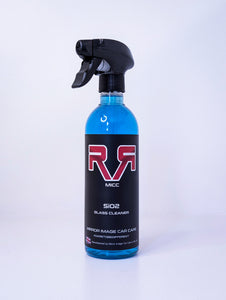 ✅ PICK UP AVAILABLE AT MIRROR IMAGE CAR CARE WITH CLICK & COLLECT.
Description
Mirror Image Car Care's SiO2 Glass Cleaner
SiO2 Glass Cleaner is a powerful glass cleaner that is infused with a super hydrophobic Si02 polymer that protects your exterior and interior glass for up to 3 months
Our advanced formula is specially designed to cut through dirt, grime and stubborn stains in a matter of seconds, leaving your car's glass surfaces crystal clear and streak-free.
From dusty windscreens to foggy mirrors, our SiO2 Glass Cleaner is the ultimate solution for maintaining a spotless and functional vehicle. Perfect for interior and exterior use, it's safe for use on all glass surfaces and won't leave any residue or streaks behind, only a protective polymer that will repel water from 30mph up.
HOW TO USE:
1. Spray on the glass surface.
2. Using a clean folded microfibre, wipe in long strokes up and down the glass.
3. Then flip the microfibre over to a clean side or use a glass cloth and wipe in long side to side strokes until the glass is clear and streak-free.
Do NOT use in extreme heat