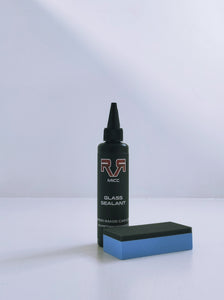 ✅ PICK UP AVAILABLE AT MIRROR IMAGE CAR CARE WITH CLICK & COLLECT.
Description 
Mirror Image Car Care Glass Sealant Kit is the perfect solution to achieve crystal clear and long-lasting glass protection for your vehicle.
Our Glass Sealant Kit will give your glass the protection it needs from the elements, making it easier to maintain and clean.
Why choose our Glass Sealant Kit?
1. Unparalleled Protection
Our glass sealant forms an invisible barrier on your car's glass surfaces, shielding them from environmental damage, including rain, snow, and harmful UV rays.
2. Enhanced Visibility Experience unmatched clarity and visibility while driving, as our sealant repels water, dirt, and grime, giving you a crystal clear view of the road ahead.
3. Easy Application
Our kit contains everything you need for a hassle-free application.
4. Long-Lasting Results
Enjoy the benefits of our Glass Sealant Kit for months on end. Its durable formula creates a protective coating that stands up to the toughest elements, ensuring a long lasting effect.
How To Use
1. Decontaminate your glass fully
2. Using the Free application sponge wipe in long strokes up and down the glass. The Sponge is meant for one application only. If you want to use it a second time please Rinse thoroughly with water before dry storing. 
3. Then leave for at least 20 minutes for the Glass Sealant to bond with the Glass.
Then Simply buff off using a clean Microfibre Cloth. 
Note
Application Pad is a one time use pad only.
We always recommend you apply 2 coats to the front windscreen. 
Do NOT use in extreme heat