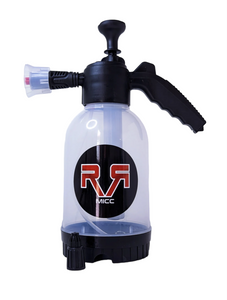 The Mirror Image Car Care 2 IN 1 Pump sprayer.
A pressurised chemical resistant pump sprayer that is designed for applying our pre-washes and wheel cleaners.
The 2 IN 1 Pump Sprayer comes with a standard nozzle and a foaming nozzle is included giving you the ultimate versatility and also 2000ml volume.
* Please note that each pump sprayer is tested before final packing, there may be some moisture left in the pump from this test.
Only pump the container 4-5 times. Over pressurising the container will cause the container to start leaking!