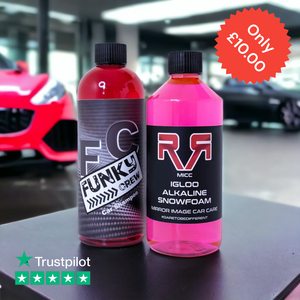 Funky Crew shampoo contains powerful cleaning agents that effortlessly remove stubborn dirt, grime, and stains, while still being gentle on your vehicle's paint.
Our specially formulated Igloo Vehicle snow foam is designed to effortlessly remove dirt and grime from your vehicle's exterior.
The Perfect Duo for part of your maintenance wash or decontamination process.
1 x 500ml Funky Crew Shampoo
1 x 500ml Igloo Vehicle Snowfoam