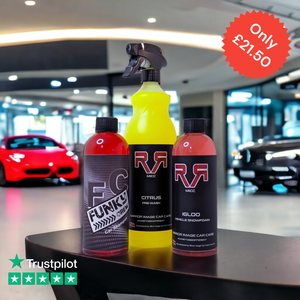 🎉 Don't miss out on our exclusive Black Friday and Christmas Pre Wash and Shampoo Pack! 🎅🎁
🧽 Introducing our amazing Pre-Wash and Shampoo pack to give your car the perfect clean before applying that all important protection! 🚗✨
✨ Get your hand on our  Pre Wash and Shampoo pack, specially formulated to tackle even the toughest dirt and grime. 💪✨
🎁 What's included in our exclusive Pre Wash and Shampoo pack? 🎁
1️⃣ Citrus 🍋 Pre Wash that helps loosen dirt and grime!
2️⃣ Igloo Vehicle Snow Foam that gives a thick rich foam to help drag all that dirt and road grime away!
3️⃣ Funky Crew Shampoo a thick economical shampoo that gives great suds and is pH Neutral, so it wont effect those all important coatings you have!
🚨 But hurry, this offer won't last long! 🚨
🔥 Grab your Pre Wash and Shampoo pack now at a discounted price during our Black Friday and Christmas Sale! Treat yourself or surprise the car enthusiast in your life with the perfect gift. 🎁🚗